dmAnswers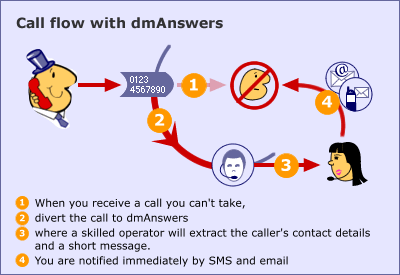 You're always in full control
Initial set up
When you first sign up to dmAnswers you supply a range of basic details:
your company name
your preferred greeting for callers
a call back time expectation: the timeframe in which the operator will tell a caller you'll get back to them
The email address you want messages sent to
The number on which you want to receive messages by SMS

You are then supplied with a private dmAnswers number, to which any of your phones can be diverted. You control how the divert works - whether it's automatic or only activated when any of your public numbers is unreachable or remains unanswered after several rings.
When dmAnswers answers ...

A skilled professional answers calls in your company name using your preferred greeting, and takes the caller's name, number and a short message. You receive immediate notification (including the caller's message and contact details) by email and SMS.
Your business sounds bigger. You never miss important calls, and are more likely to capitalise on new sales leads.